You walk along the beach out of the Lomma community, through the Öresundsparken nature reserve and further on the cycle path along the Södra Lommabukten nature reserve with Tågarp heath and Alnarp fellad.
Lommabukten has some of Sweden's richest eelgrass beds, with dense and deep stands that function as nurseries for growing fish. The natural beach and shallow sand dunes are important resting and foraging areas for geese, ducks and waders.
The area south of Lomma was already used by people during the Stone Age. In the Öresund Park's nature reserve, flint shavings and a flint core have been found, which indicates that the site was a Stone Age settlement to an unknown extent. During the 18th century, the nature reserve area was the outlands belonging to Alnarpsgården and Karstorps village and were used as pastures. There has also been a camping site and refugee accommodation here. Tågarp's heath and Alnarp's fell, south of the Öresund Park, are still grazed during the summer and show a cultural landscape that formerly had an unbroken stretch along Scania's southwest coast but now only exists in small fragments. These meadows have probably been used as pasture since the Bronze Age.
The trail runs through the Öresund Park's nature reserve, which has varied seashore vegetation and herb-rich meadow environments that favor many insects, birds and bats. Adjacent to Öresund Park is the Södra Lommabukten nature reserve with Tågarp heath and Alnarp fellad. Trespassing is prohibited in the reserve during parts of the year, which is why the section of the trail runs on the cycle track at the edge of the reserve, but the view over the occasionally wet beach meadows and the sea is breathtaking.
Statens Lantbrukuniversitet in Alnarp is one kilometer from the trail, it is possible to walk across the meadows after a round in the fantastic park and join the trail again a little further south. Here is Alnarps Castle, which was built for the agricultural institute in 1862 and is surrounded by the beautiful Alnarps Park with the country's second largest collection in terms of species and varieties of trees and shrubs.
1-7 km
Lätt
Kustnära
Kollektivtrafik
Barnfamiljer
Hund
Skåneleden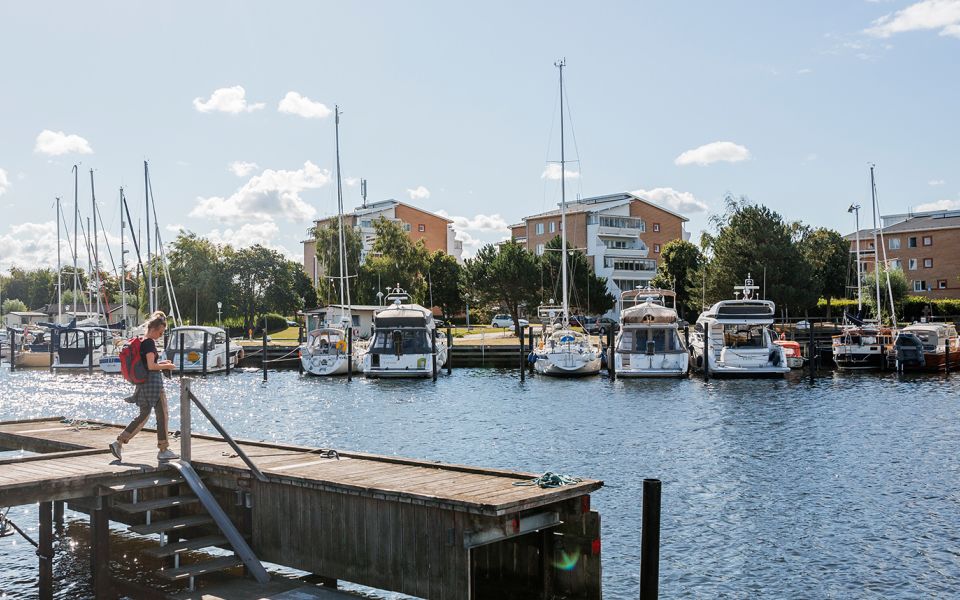 Highlights along the section
Are you looking for a place to stay or a cozy cafe during your hike? Here are some of the sights and places to visit along the section.
Hiking suggestions
Do you find it difficult to know where to start your hike? Here is some inspiration and a selection of recommended hikes - short and long, with or without accommodation or based on different themes.
Show all
News
Here you will find information about what's new on the trail as well as current redirections and disturbances.
Show all
Share your moments
Share your adventures on the trail by tagging your photos with #skåneleden or #skaneleden.