Ocean on one side – sand dunes and windswept heathlands on the other. From the little fishing village of Vejbystrand to the harbour town of Ängelholm, this hike is an easy, seaside dream. Why not stretch out on one of the many beaches? Or how about a detour up the Rönne Å River for some fishing?
Nature
Broad, comfortable pathways provide an easy walk along the northwest coast of Skåne. At Vejbystrand harbour there is a reef vibrating with bird life. Cross the heathland between Vejbystrand and Magnarp. Heathlands are becoming increasingly rare throughout all of Europe, and this one offers Japanese rose and thickets of juniper.
As you pass through the harbour of Skepparkroken you have a clear view over to the Kullaberg Peninsula with all of its natural splendour. The Rönne Å River, home to salmon and trout, exits at Skalderviken Bay. Past the bay, you can make your hike a little more challenging by testing the sand dunes that line the shore. The most interesting dunes, 2-9 metres high, are at Kronoskogen Recreation Area. Waves and wind create the dunes and storms can and do destroy them. You can see efforts to preserve the area in the unnaturally straight dunes a little inland. Underlying hurdles stop the dunes from being eroded, and the planting of pines has also helped.
Closer to the sea you find heathland with windswept pines and bushes. And a bit Inland you can wander through evergreen woodlands, with creeping lady's tresses and lots of fungi. The most exclusive residents are the tawny pipit, a solitary sand bee (Osmia martima), and a beetle (Apalus bimaculatus), which is the sand bee's mortal enemy.
Cultural History
Originally a fishing village, Vejbystrand has redefined itself as a seaside and spa resort, and in 1903 the first seaside sanatorium for tuberculous patients was built here. You can just make out the sanatorium buildings through some greenery. Learn more about the sanatorium at the local museum.
On a hill, just a bit in from the coast, there is a string of Bronze Age burial mounds. Some 50 have survived to this day, and at Utsiktsvägen Road you can visit the Bökehögarna burial mounds. The view out over the sea is beautiful and comforting, and it is easy to understand why this site was chosen as a final resting place.
An old road winds its way through the cultural heritage site of Skepparkroken, past the homes of sea captains long departed. Skepparkroken, or just Kroken as it was called, was part of the Ängeltofta estate, and large quantities of grain and iron ploughs were shipped from this harbour. Skepparkroken provides the historical marine environment, while in Skälderviken there is a marina with several hundred boats. There are beautiful picnic sites in this area with views of Kullaberg.
In Skälderviken you pass a memorial to the men who built the harbour for 50 öre/day. Unless they had boots. Men with boots were paid 60 öre/day. The cannon you see here is of unknown origin, but was found partially buried near the pier where it was used for mooring boats.
The medieval ruins of Luntertun church lie east of the Rönne Å River. Imagine the sights, sounds, and smells of the town of Luntertun, once a bustling marketplace for salmon and herring. But it was difficult to defend and the shifting sands caused problems. The solution was to build Ängelholm, Luntertun's successor.
Kustnära
Tätortsnära
Familjevänligt
Hundvänligt
Along the section
Trail status
There are no known issues on this track segment.
Campsite
Water
Elevation
Fetching elevation data...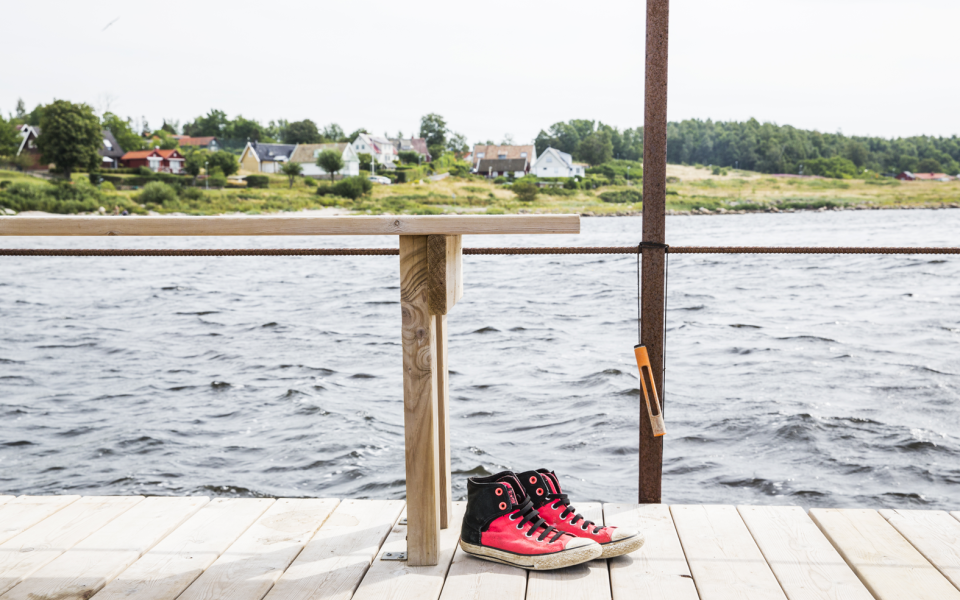 Highlights along the section
Are you looking for a place to stay or a cozy cafe during your hike? Here are some of the sights and places to visit along the section.
Hiking suggestions
Do you find it difficult to know where to start your hike? Here is some inspiration and a selection of recommended hikes - short and long, with or without accommodation or based on different themes.
Show All
News
Here you will find information about what's new on the trail as well as current redirections and disturbances.
Show All
Share your moments
Share your adventures on the trail by tagging your photos with #skåneleden or #skaneleden.
We would like to know what you think
Do you have any experiences that you've would like to share? A nice tip or maybe something you diskliked? Write a comment, we would like to know!