Wander through dark forests, hills occupied by trolls, woodlands battered by weather and soggy wetlands. But also across open, grazed hills. Rock debris left behind by retreating glaciers was put to good use in the many stone bridges and walls. And one large boulder, called Talahall, was used as a sacrificial altar.
Nature
Wander along footpaths and forestry tracks on the eastern half of this section of trail through dark spruce forests, past wetlands and lush deciduous forests. At Simontorp, the character of the landscape starts to change, and the closer you get to Glimåkra the more open the landscape becomes and stony pastures dominate.
At the little village of Tockarp, you pass several large boulders, carried here by glaciers and then left behind when they melted some 12,000 years ago. At the cross-roads in the village you walk past Blotastenen, which was once a sacrificial altar. Looking south you can see the giant boulder known as Talahall ("Tala Hall") in the pasture. Legend has it that this massive rock rolls over whenever it smells freshly baked bread. The moss clinging to it, however, refutes this legend.
The last part of the trail doubles as a jogging track and leads you through woods, past an outdoor swimming pool and up a steep path onto Trollabackarna Hills, named for the trolls who were once thought to roam here. And at last you arrive at the campsite.
Cultural History
You pass several well -preserved kilns where pine logs were slowly transformed into tar. Arched bridges, stone walls, and cattle paths can also be found along the trail, reflecting life in earlier generations in this stony countryside. You also see old flax drying sheds, used after the retting process, whereby water was used to rot the inner parts of the flax leaving the outer fibres for use in cloth-making.
Northwest of Vesslarpssjön Lake, you can find the ruins of Spjutstorpet croft. Ivar Bengtsson, founder of the internationally-renowned wooden toy company BRIO, was born here as were the ideas which led to his manufacturing success. Visit the old sawmill, which is still in functioning condition, by Simontorpsån River. In the beginning, it was driven by a large water wheel but a turbine was installed relatively early on. With a button in the mill and a cable to the house, the mill owner became the first in the village with electric lights.
A few kilometres west of Simontorp, the Skåneleden Trail follows the old highway between Denmark and Sweden, Ryavägen. In times of peace, people travelled this route on foot or with wagons loaded with goods. Later on, in the 1600s, it was the armies who used the route.
Along the section
Trail status
There are no known issues on this track segment.
Campsite
Water
Elevation
Fetching elevation data...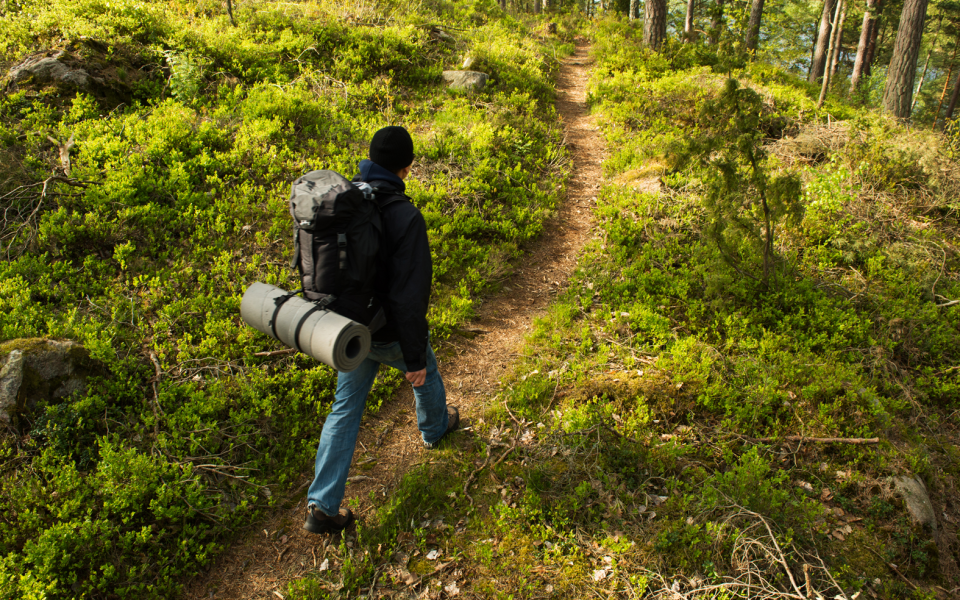 Highlights along the section
Are you looking for a place to stay or a cozy cafe during your hike? Here are some of the sights and places to visit along the section.
Hiking suggestions
Do you find it difficult to know where to start your hike? Here is some inspiration and a selection of recommended hikes - short and long, with or without accommodation or based on different themes.
Show All
News
Here you will find information about what's new on the trail as well as current redirections and disturbances.
Show All
Share your moments
Share your adventures on the trail by tagging your photos with #skåneleden or #skaneleden.
We would like to know what you think
Do you have any experiences that you've would like to share? A nice tip or maybe something you diskliked? Write a comment, we would like to know!